€795.00
Paparmali 2 – AR Face Tracking using Kinect 2
This solution is a perfect fit for a variety of different EVENTS/EXHIBITIONS to attract masses of people to you or your brand!
You can test this AR solution on your PC from here. You should own Kinect 2 to test it.
1) Originally the project was built using:
Unity3D 2018.2.x version
Kinect plugin (from Unity Asset Store)
Execution file provided to test out the project on PC. Make sure you have installed Kinect 2 drivers
After the purchase of the project you will receive:
A full Unity3D project that includes all the assets (scripts, UI elements, scene, documentation) for the prepared scene that you can see in the video or exe solution itself. Full support for this project is also provided and we will help you with any question(s) you may have.
2) Support
Support is TOP priority for this project. If you find any bug/weird behavior of the app – let us know and we will fix it as soon as possible. If Unity3D versions evolved and for some reason the project doesn't work properly anymore – let us know and we will provide the fix to work on the newest Unity3D version you're working on. At the moment this project should work from Unity3D 2018.2.x version and above.
For any questions please write to: info@paparmali.com
 3) AR solution purpose
This project is a perfect AR Face Tracking solution to augment different types of masks and helmets but not limited to it. It is a perfect fit for the events/exhibitions to attract lots of people to you or your brand. The biggest advantage of this solution that mask augmentation takes place on every person detected on the camera view at random order. If user goes out of camera field of view, the next time he comes in new mask may appear.
4) 3rd party plugins used for this project
Kinect plugin from Unity Asset Store – only head tracking information was used for content augmentation.
5) AR Solution features
Solution consists of 10 categories with overall 162 different 3D models for augmentation:
Masks (51 models)
Ancient Helmets (33 models)
Hats (20 models)
Halloween (15 models)
Hair (17 models)
Christmas (6 models)
SciFi Helmets (7 models)
Glasses (20 models)
Crowns (4 models)
Sports (3 models)
Documentation provided within the project.
Important:
This project works with Kinect 2 on PC (Windows platform).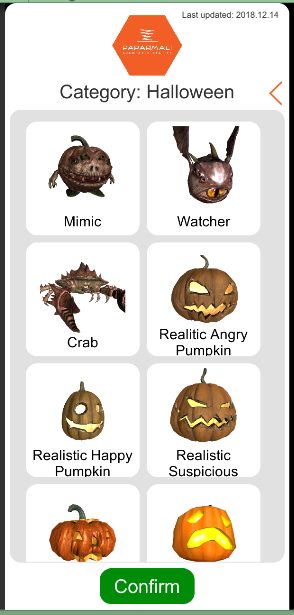 Description
Augmented Reality & Virtual Reality | OurTechArt